William L. Proctor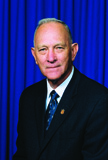 Dr. William L. Proctor was appointed President of Flagler College in the spring of 1971. His prior professional experience included teaching and coaching at the secondary level, coaching at the university level, deanships at two state universities, and a school superintendency. He served as President of Flagler College for 30 years, resigning on 1 July 2001 upon his appointment to the State Board of Education by Governor Jeb Bush. He continues his service to the College in the position of Chancellor.
In November 2004, he was elected to the Florida House of Representatives, representing District 20 which encompasses portions of St. Johns, Clay, and Flagler Counties. He was reelected in 2006, 2008, and 2010. During his service in the legislature Dr. Proctor has passed legislation in such diverse areas as healthcare, veterans and military affairs, historic preservation, and all levels of education. Currently, Representative Proctor serves as Chairman of the House Education Committee and as a member of the Appropriations Committee.
Dr. Proctor is a former Chairman of the Independent Colleges and Universities of Florida and served as chairman of the Commission on State Relations of the National Association of Independent Colleges and Universities. For eighteen years he was a member of the Board of Trustees of the Florida School for the Deaf and the Blind, serving as chairman for twelve years. Dr. Proctor served as vice-chairman of the Florida Education Standards Commission and for two terms as a member of the Commission on Colleges of the Southern Association of Colleges and Schools.
Dr. Proctor earned his Ph.D. in Education Administration from Florida State University and has been honored by FSU with the Distinguished Educator Award, membership in the Athletic Hall of Fame, inclusion in the Alumni Association's 100 Distinguished Graduates, and induction in the University's Circle of Gold.
Among other awards presented to him in recognition of his professional and public service are the Liberty Bell Award, presented by the Independent Colleges and Universities of Florida; the Order of La Florida, the City of St. Augustine's highest honor; the Commissioner of Education's Life Education Achievement Award; the Distinguished Service Award, presented by the Florida School for the Deaf and Blind; the Patrick Henry Medallion for Patriotic Education presented by the Military Order of the World Wars, and the Distinguished Service Award presented by the Florida Association of Colleges and Universities.
He is the recipient of honorary degrees from NOVA Southeastern University, Flagler College.