Event Rentals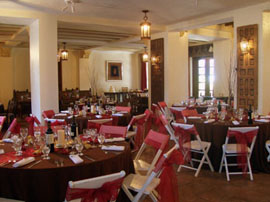 Several venues are available to rent for your next event. The Sala de Montiano is a unique event space within Governor's House located in the heart of historic downtown St. Augustine. The Sala and its adjoining courtyard are ideal for weddings, lectures, workshops, meetings, and performances with a maximum capacity of 120 people.
The Governor's Office and adjoining rooms, located on the second floor of the Governor's House can be rented for small meetings or as an anteroom for events taking place in the Sala. Governor's House is fully ADA accessible and has wifi capability throughout.
Other outdoor spaces in downtown St. Augustine may be made available for events including the Arrivas House back yard located at 46 St. George Street.