Sala de Montiano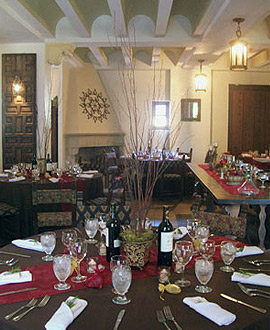 The Sala de Montiano and its adjoining courtyard are an ideal setting for your next special event. A variety of rental options are available ranging from hourly rentals to weekend packages.
Maximum Capacity: 120 people
Hours:
The City of St. Augustine noise ordinance goes into effect at 10:00 PM, so lessees are advised that all events involving music, outdoor gatherings or other noise in violation of the ordinance must conclude by that time. Normal business hours in the Government House are 10:00 AM to 5:00 PM daily. Events should not interfere with normal operations in the Government House, otherwise additional charges will apply.
Insurance:
The lesee is required to secure policies of insurance, at lesee's expense, for the event in coverage limits prescribed by the University.
Furnishings:
Chairs and tables can be reserved as available.