The following UF research centers, institutes, and units contribute to ongoing teaching, research, and service directly related to historic St. Augustine.
Academics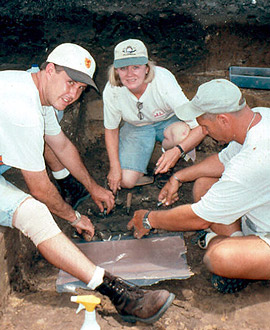 Archaeologists with the Florida Museum of Natural History's Historical Archaeology Program excavate a large trash pit at the site of the original 1565 settlement of St. Augustine in 2001 at the Fountain of Youth Park archaeological site. (From left to right the people are Dr. Gifford Waters, Dr. Kathleen Deagan, and John William Morris III). Photo courtesy of the Florida Museum of Natural History -Historical Archaeology Collections.
The University of Florida is among the nation's most academically diverse public universities, and is a member of the Association of American Universities. With 16 colleges and over 100 academic centers, bureaus, and institutes, UF has a long history of established programs in international education, research, and service.
These diverse resources have been directed to scholarly research and teaching in the St. Augustine community for many decades in many fields. From archaeological exploration to authoritative historical accounts, University of Florida faculty have contributed to the world's understanding of St. Augustine as the longest continuously occupied European settlement in North America. The UF Archaeological Field School has been operating in St. Augustine since 1972.
As a result of these endeavors, voluminous St. Augustine artifacts and historical documents are now curated by the Florida Museum of Natural History and the George A. Smathers Libraries at the University of Florida. Faculty and students from multiple disciplines are involved in an array of research, service and educational endeavors in St. Augustine and St. Johns County including the College of Agricultural and Life Sciences, College of Design Construction and Planning, College of Engineering, College of Fine Arts, College of Health and Human Performance, College of Journalism and Communications, College of Law, College of Liberal Arts and Sciences, UF Performing Arts and the Whitney Laboratory for Marine Bioscience. As these programs grow and the university's involvement expands, many more colleges are expected to become engaged in the exciting living laboratory that is historical St. Augustine and St. Johns County.